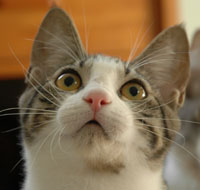 Our Mission
The Cat House on the Kings is California's largest no-cage, no-kill, lifetime cat sanctuary and adoption center. Our mission is to place rescued cats and kittens into loving, permanent homes; to provide a safe, happy and healthy home for unwanted cats and kittens in a unique, no-cage facility; to prevent pet overpopulation through spaying and neutering; and to educate the public about responsible pet ownership.
In a Nutshell
Lynea Lahttp://www.blogger.com/img/blank.gifttanzio, who founded and runs The Cat House on the Kings, talks about how it came about and gives you a peek into our unique environment in this video created by Jack Perez.
The Cat House is a 501(c)(3) nonprofit corporation, receives no government or public funding, and relies entirely on donations from the public to carry out its mission.
Since its founding 19 years ago, The Cat House on the Kings has saved over 18,000 cats and 5,000 dogs (not counting the 40,000 animals we have spayed and neutered!) and currently cares for more than 700 cats and kittens, a dozen or so dogs and a handful of goats, who earn their keep as lawnmowers!
http://www.cathouseonthekings.com